Gaming 4 Good
Sun. May 29, 2022 at 2:00pm CDT
Event Description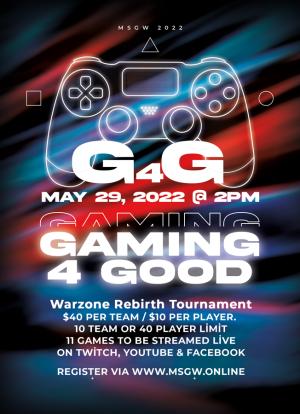 Nothing brings gamers together like a bit of competition. Whether its World of Warcraft or the latest release of Mario Kart, these games engender amazing amounts of community and togetherness. The esports craze has inspired some of the most heated competitions the world has ever seen, and it's only getting bigger.
This will be the Inaugural Gaming 4 Good tournament. Proceeds from this event will go to local youth organizations. This is a point based tournament after each game you will let us know where you placed and we will accumulate your points. The team with the most points at the end of the tournament is the winner.
Rules:
1. Since the tournament is streamed live on multiple platforms reaching over 300,000 people there will be no profanity and/or vulgar language
2. If you are caught cheating and/or hacking you will be kicked and NEVER able to compete in Gaming 4 Good again and money will not be refunded.
3. Have a team member dedicated to screenshotting your post game stats and what place you came in and posting it on the Gaming 4 Good FB Page (This is where you will get live updates on the event and scoring to know what you need to do to win.) Once everyone has sent in their stats and placing we will start the next match.
4. Each team will have 3 minutes to post. If it is not posted in time it will not be counted since we are trying to update as quickly as possible.
5. If your team is late and misses the first match you will automatically be given 0 points for that round.
6. This money is a donation for local youth organizations and therefore we have a no refund and no exchanges policy.
WInners:
First Place overall winners will receive a prize pack and free entry into our next tournament
Second Place overall winners will receive a prize pack and 50% off entry into the next tournament
Third place overall winners will receive 50% off entry into the next tournament
Most team kills in the tournament will get 50% off next tournament and Gaming 4 Good State of Mind Tees
Most individual kills in the tournament will get free entry into the solo tournament and a Gaming 4 Good State of Mind Tee
Scoring System:
The point system will work as follows:
1st Place - 10 Points
2nd Place - 9 Points
3rd Place - 8 Points
4th Place - 7 Points
5th Place - 6 Points
6th Place - 5 Points
7th Place - 4 Points
8th Place - 3 Points
9th Place - 2 Points
10th Place - 1 Point
Join the Conversation
Follow the event with #msgreekweekend